Agrileadership 20/20 workshop
Posted on august 27, 2014,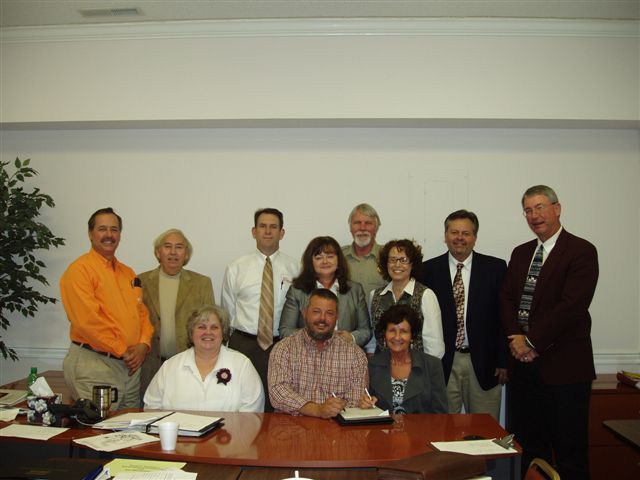 AgriLeadership 20/20 Committee met recently to finalize plans for this year's class schedule. Members are from left, front row: Rhonda Mellenkopf, Vice-Chair; Jackie Russell, Chair; Dimple Geesling, Secretary-USDA-NRCS/HYL RC&D; back row (from left): Ron Johnson, UT Extension; Jack McDaniel; Eddie Clark, TN Farm Bureau; Tammy Tidwell, USDA-FSA; Rick Merinar, TDA, Forestry Division; Kathy Daugherty, USDA-NRCS/HYL RC&D; Jerry Jolley, USDA-RD; Dean Pat Bagley, TTU-College of Ag & Human Sciences.
---
Most of us eat at least one good meal a day so we should be interested in the future of agriculture in our state and our nation. Those involved in agriculture face constant challenges; whether they are an agricultural producer or work with an agribusiness or an organization, agency, or university supporting the agriculture industry. In order for agriculture to be successful today, it is extremely important that it have a clear vision for the future. Regulatory requirements, supply-and-demand, finances and bio-security are all issues that come to the forefront. In order to be adequately prepared for the coming issues, leaders must be developed in various sectors of the agricultural community.
With this in mind, a course has been developed on agricultural leadership for the Upper Cumberland region by the various agricultural agencies and organizations. This course is titled "AgriLeadership 20/20". This leadership workshop identifies the quality of vision that must be instilled in our agricultural leaders to secure the future of agriculture. This course was assembled in 1995 and to date has prepared more than 200 agricultural leaders. A series of 5 classes are held on topics that include the following:
Laws, Regulations, Ag Issues

Forestry Industry Issues

Ag Entrepreneurship

Communications/ Media Relations

Government/Legislative Visit & Graduation
The application fee is $150 and covers one meal during each scheduled class session. To enroll, please email hylrcd@gmail.com.